Índice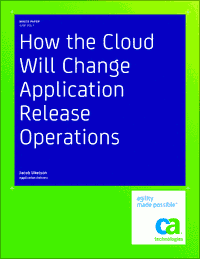 The use of cloud computing for custom-built, mission-critical enterprise applications is in its infancy, but both the technology and mind-set are starting to influence enterprise application architectures and delivery.
Descripción de How the Cloud will Change Application Release Applications: The growing emphasis on application agility requires IT focus on excellence in application release operations. Getting application release operations right streamlines the process of getting an application into the hands of users, providing the business with justification for a move to the cloud.
Descargar
Visita la página Manuales gratuitos o consulta el catálogo completo.
¿Has visto algún error?: Por favor, ayúdame a corregirlo contactando conmigo o comentando abajo.
Quizá también te interese leer...